hello, guys welcome to a uvtimes and today we have brought you all the answers to Amazon's Super Quiz Value Day. This quiz has been wrapped around 5 quizzes and we have put all the answers on uvtimes. You can win 5000 Amazon Pay Balance in this contest. In the contest, 40 people can win the Amazon pay balance and its winner will be done before September 30.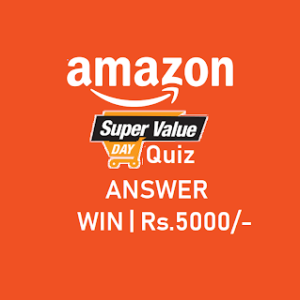 Amazon Quiz Time – Super Value Day Quiz
1) Shopping on Super Value Day gives you cashback on purchase of household supplies and more. What is the maximum cashback you can avail?
Answer. Rs. 1200
2) Super Value Day occurs on which days of the month?
Answer. 1st, 2nd and 3rd of every month
3) During Super Value Day, Mr K purchased groceries worth Rs 1500, what is the maximum cashback he can avail?
Answer. Rs. 225
4) Customers using which bank's credit or debit card are eligible for the additional cashback on shopping from Super Value Days?
Answer. ICICI bank
5) Which of the following would NOT be eligible for the Super Value Day cashback offer?
Answer. Electronics and Furniture