Amazon Nikon DSLR Camera Quiz Answer (19 July)
Answer and win a Nikon D5300 DSLR Camera
Question 1. What do the Roman numerals CX stand for?
Answer. 110
Question 2. How many steps would you have to take before you reach the first level of the Eiffel Tower?
Answer. 328
Question 3. Which of these would be the sister-in-law of your dad's only brother?
Answer. YOUR MOTHER
Question 4. Which fictional city is the home of Batman?
Answer.  Gotham City
Question 5. Which country is scheduled to host the 2022 FIFA World Cup?
Answer. QATAR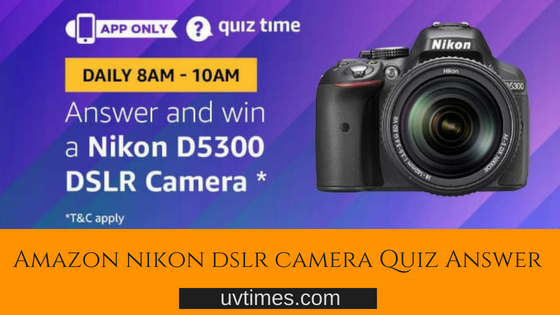 Hello Everyone All of you are welcome uvtimes and today we have brought for you Amazon Nikon DSLR Camera Quiz Answers This contest has been asked for a total of 5 question and we have all published for you the correct answer on the uvtimes.
And one important thing is that this contest is from 8 am to 10 am in the meantime, you have to make a participate in it, almost you will get 2 hours and after 10 am the contest will be closed.
Amazon Application