Amazon Philips Trimmer Quiz Answers Chance to win 5000
1) Beards and moustaches can protect one from UV rays and skin damage.
Answer. True
2) Which of these is the NOT the name of a popular beard style?
Answer. Mole patch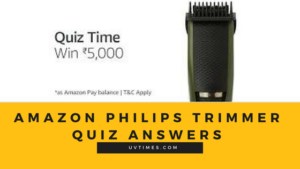 3) The Philips DuraPower beard trimmer BT3221/15 can deliver up to ___minutes of cordless use after 1 hour of charging ?
Answer. 90 minutes
4) Which of these is NOT a feature of the new Philips DuraPower beard trimmers?
Answer. Powered by Arc reactor
5) Which of these Indian celebrities is currently associated with Philips trimmers and male grooming products?
Answer. Virat Kohli