How To Redeem Jio Vouchers If you use the Jio Prepaid and Postpaid Plans, then know how you get a cashback of 50 rupees on a recharge of more than 300 Rupees.
We will tell you every step that you can easily understand how to Redeem Jio Voucher and you will generate good income by recharge of friend and family from the Jio Recharge Voucher.
How To Redeem Jio Vouchers
 First of all you have to download MYJIO application on your Mobile.
Open the MYJIO application and click the three toggle line on the side.
Click Recharge and After Recharge Your Numbers.
Choose your Plan and Click on Buy Button.
You have to click on the above Apply discount voucher.
Tick 50 rs and click Useit
And you pay according to your online method.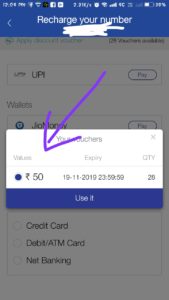 Follow all these steps, you follow it well and the validity of the vouchers is 19- 11-2019. After 19- 11-2019 All vouchers will expire.
You can also use the Jio Voucher add on recharge too. It has a condition that you have to recharge more than 100 rupees.
ALSO READ