hello, guys welcome to a uvtimes and today we have brought you all the answers to Amazon Prime Quiz Week Answer. This quiz has been wrapped around 5 quizzes and we have put all the answers on uvtimes. You can win 10000 Amazon Pay Balance in this contest. In the contest, 40 people can win the Amazon pay balance and its winner will be done before September 30.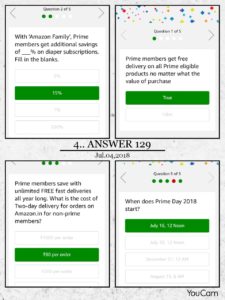 Question 1.Prime members get free delivery on all prime eligible products no matter what the value of purchase
Answer. TRUE
Question 2 With 'Amazon Family', Prime members get additional savings of ____% on diaper subcriptions. fill in the blanks.
Answer. 15%
Question 3 Prime member save with unlimited FREE fast deliveries all year long. what is the cost of Two-day delivery for orders on Amazon.in FOR non-prime members?
Answer. 80 PER ORDER
Question 4. Now, one can also purchase a one-month Prime membership How much does this cost?
Answer. 129
Question 5. When does Prime Day 2018 start?
Answer. July 16, 12 Noon